On April 12, 2023, Free the Fern was honored to attend the BeAware Fair for a second year. This event, which is part of Climate Action week, is organized for North Vancouver Secondary students and staff to come together to learn about the environment and solutions for climate change. This year's event was held at Windsor Secondary School in North Vancouver.
Free the Fern President, Grace Nombrado & treasurer, Joe Boyd, arrived at 9:30am to Windsor Secondary. They set-up their Free the Fern table, which included samples of native plants, such as Pacific bleeding heart, Red flowering currant, osboberry, and more! They also set out samples of invasive ivy at various stages of growth – from young, flexible vines to thick, woody, tree-like vines. Joe had also brought along samples of his baskets woven from ivy. On the table, there were also pamphlets and stickers available (provided from the Invasive Species Council of BC).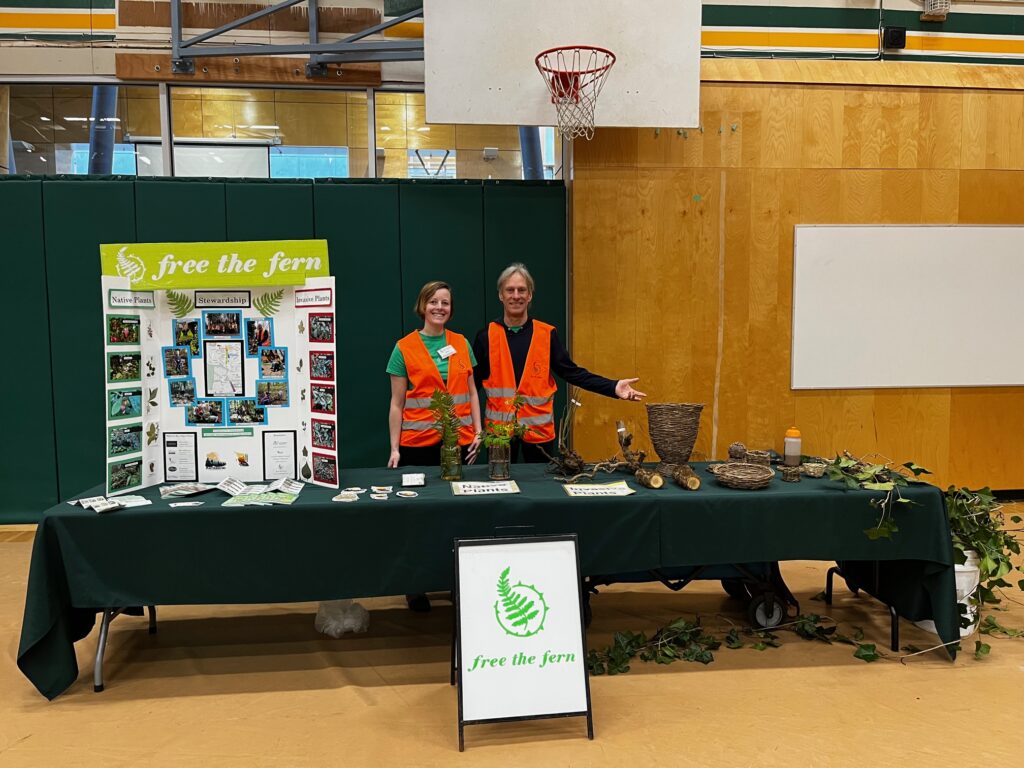 After setting up the table, Joe and Grace, were scheduled to do a presentation for students in the library at 10:30am. Grace had prepared a PowerPoint about the dangers of invasive ivy in the forest, how to remove the ivy, and how weave it into a basket. After some technical glitches, they were able to get the PowerPoint set up and the presentation started. They were joined by an eager class of grade 9 Science students. Grace demonstrated how to cut ivy from a tree by wrapping Joe in a young vine and trimming it off him. Grace & Joe also passed around samples of 20 year old ivy (that has actual rings like a tree!). In addition, they showed video clips of how to weave ivy into a basket. Overall, it was a successful, engaging presentation.

Joe and Grace then returned to the gym and spent some time interacting with the students at their table. Grace shared the names of the native plants, while Joe did a live demo of ivy weaving. When there was a lull in the number of students circulation the gym, Grace & Joe were able to take in some of the other non-profits and speak with other volunteers in attendance. Other groups included: Lynn Canyon Ecology Centre, Ocean Wise, Wild Bird Trust (Maplewoods Flats), City of North Vancouver and more!
All in all it was a great, engaging event. The students enjoyed seeing real samples of native and invasive plants – which helped make the topic come to life. We look forward to attending the BeAware Fair again next year!