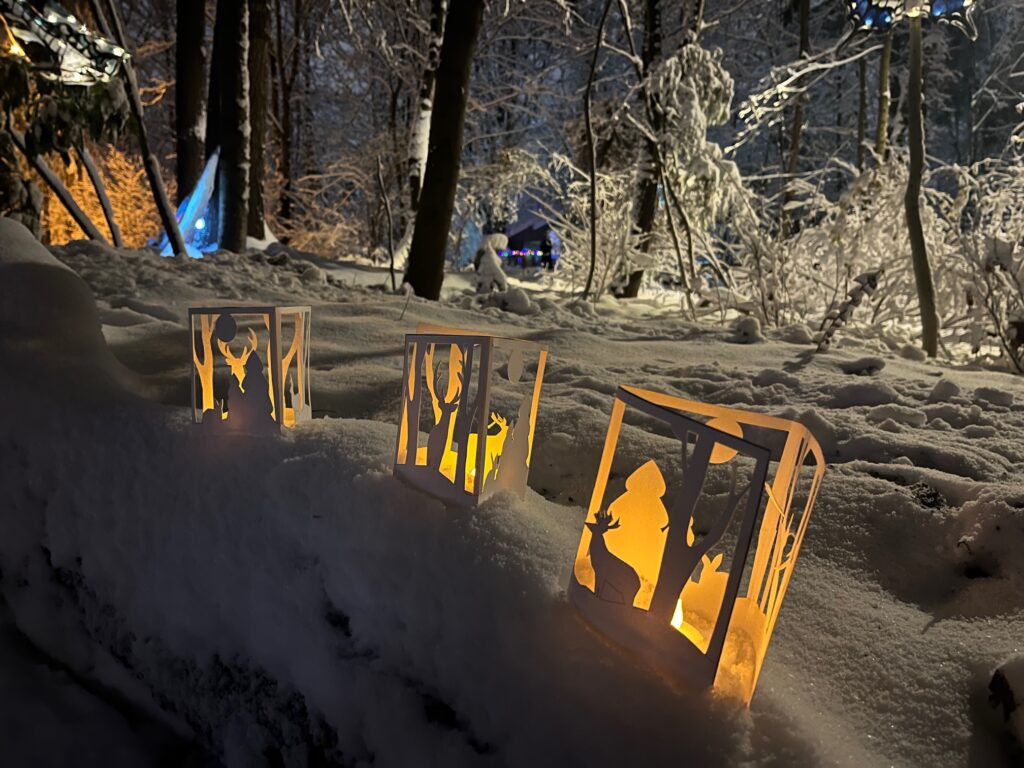 Dawn broke on Sunday, Dec 18, 2022, with a loud clap of thunder and a flash of lightening. Outside, snow was falling heavily on the ground. With concern, Grace Nombrado, President of Free the Fern, looked out the window to see a thick layer of snow blanketing the ground and covering the trees. It was beautiful, but would the snow mean that the lantern event that Free the Fern had been planning for over two months have to be cancelled?! "No, we will find a way to make this work!" Grace thought with determination. "We will just have to rethink the plan, decrease the event area, and make sure everyone is safe to walk the lantern procession route."

So, rather than having a large-scale lantern event looping through the Red Alder Trail, we would keep the lantern procession to the edge of Kinross Creek Co-op and the Douglas Fir Teaching Garden.
At 3pm, 10 volunteers gathered to help shovel snow from the Douglas Fir Teaching garden, edge of Kinross Creek Co-op, the basketball court, and a small portion of the Red Alder trail. Volunteers also sprinkled a generous amount of salt to make sure those walking wouldn't slip.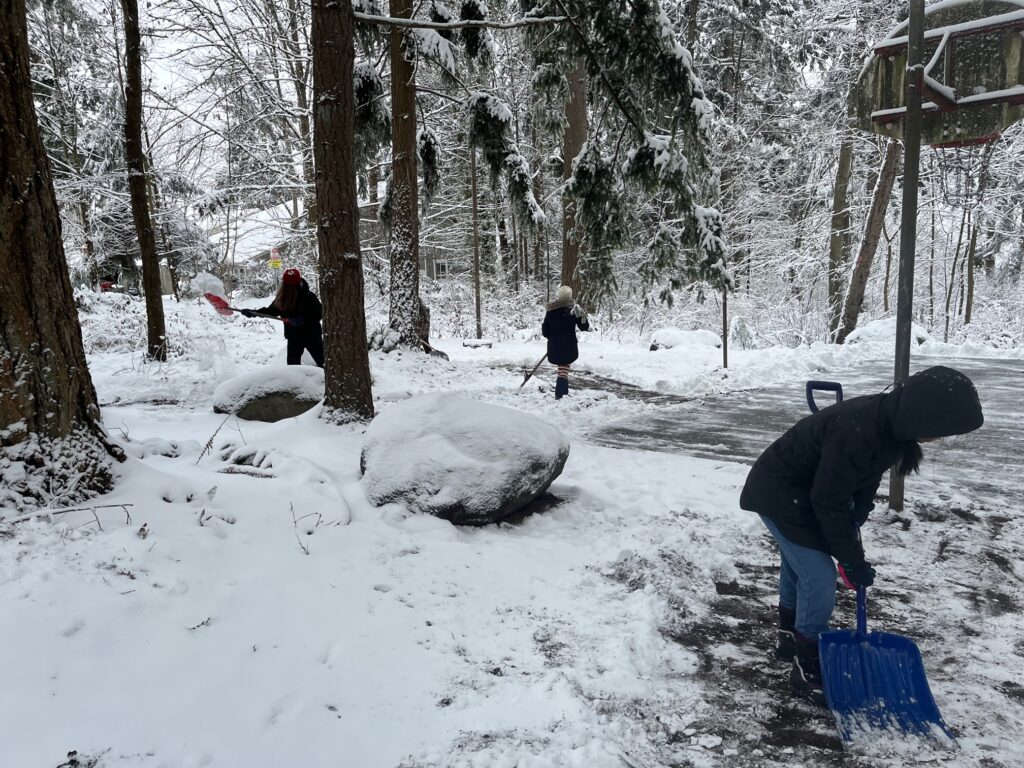 At 5pm, 11 volunteers (many of who had helped earlier with snow shoveling) arrived to help with lantern set-up. The Douglas Fir Teaching Garden became transformed with the glowing light of jar, globe, nature, and stained glass lanterns. A barred owl lantern hung from the basketball court. While a small mouse lantern appeared to scamper beneath. Woven ivy basket lanterns cast a rainbow light, as coloured LEDs shone from within. In one garden plot, a bright red salmon and a fox lantern gathered. While, on snow-covered snowberry bushes, butterfly lanterns perched in the distance.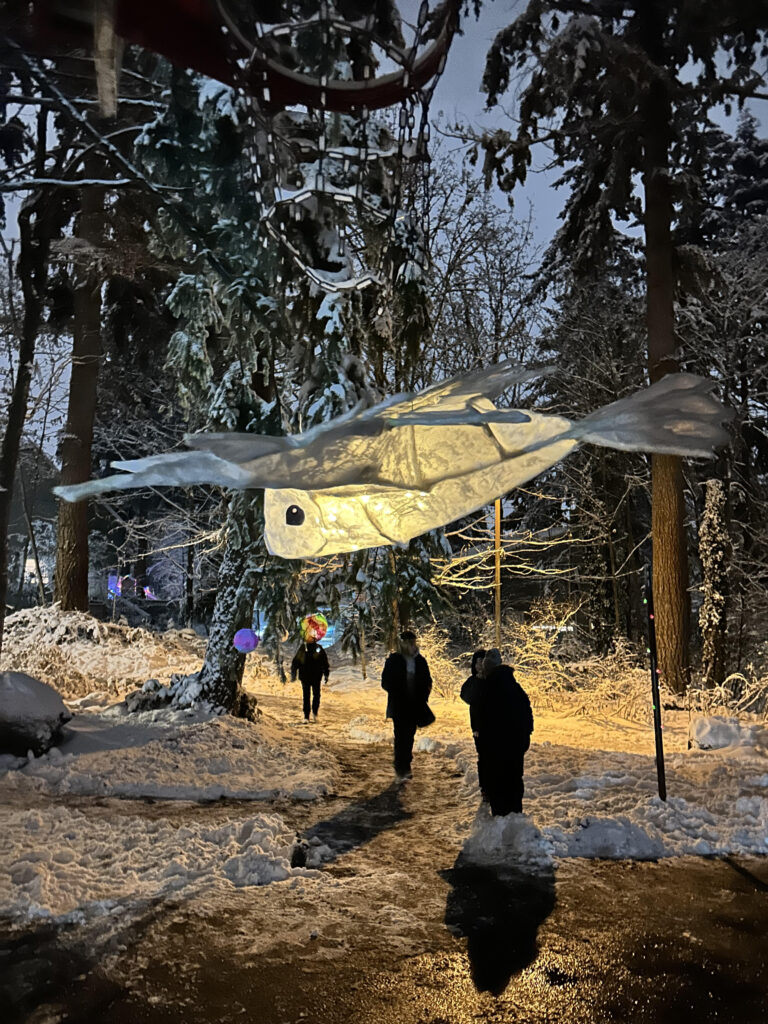 At 6pm, the hot chocolate table was set-up, thanks to help from volunteers, Paola and Kiki.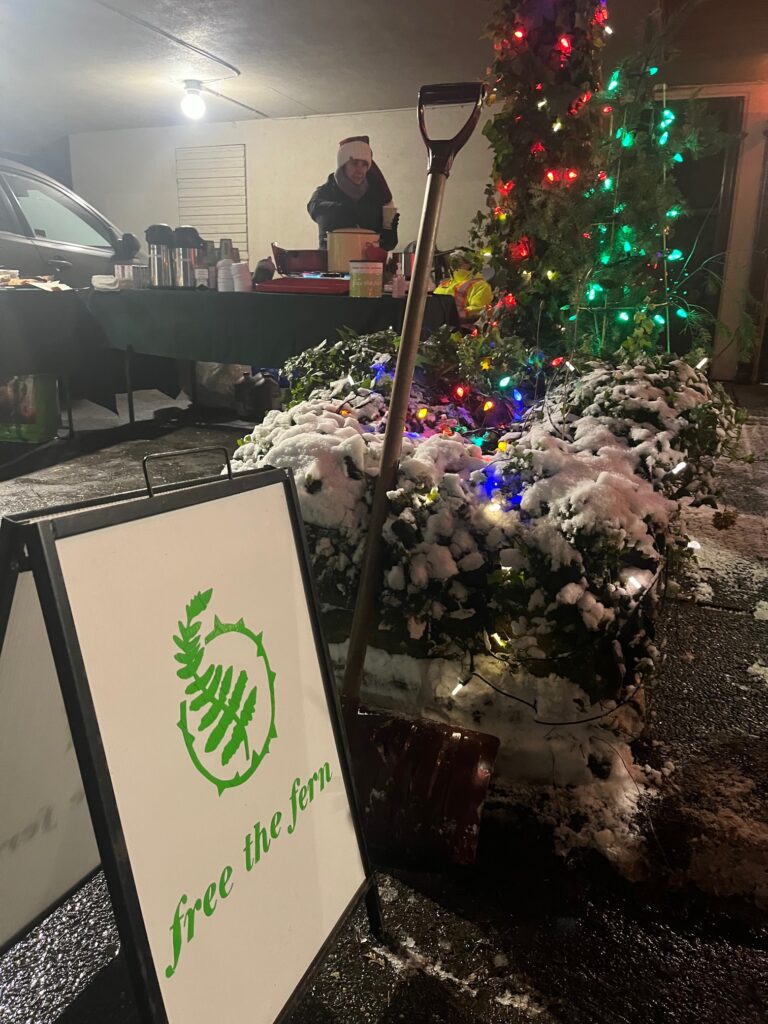 There was also one table filled to overflowing with home baked cookies made by local residents.
Around 6:15pm, The Carnival Band arrived, led by local Champlain Height resident, Tim Sars.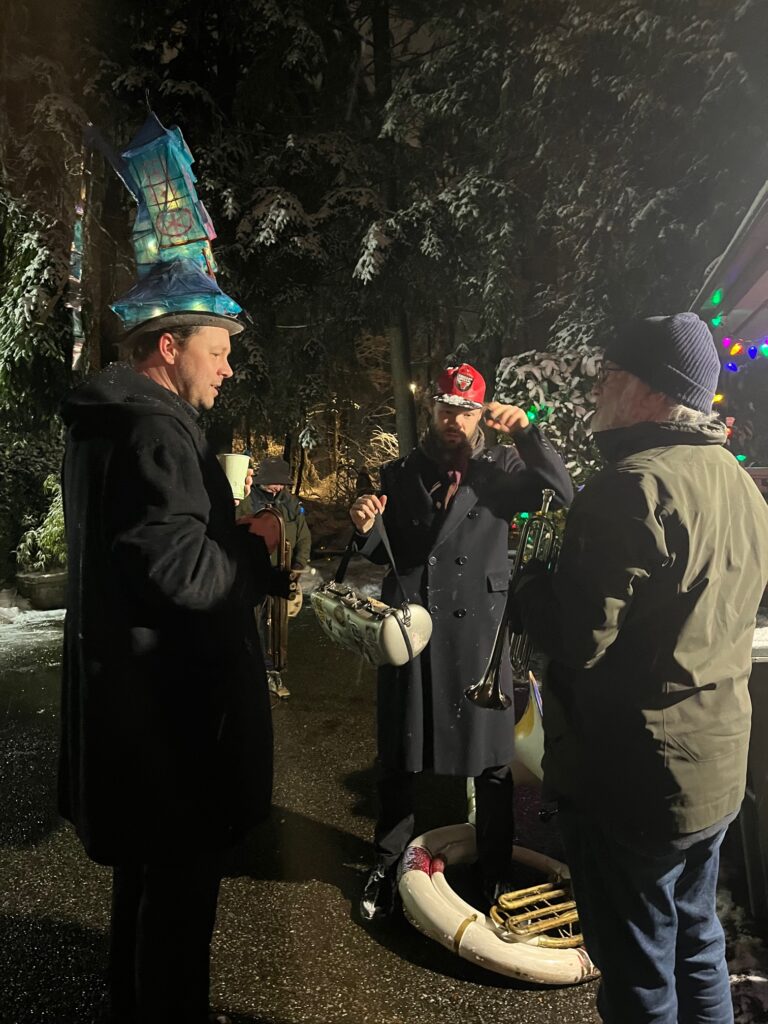 As the musicians warmed up their instruments, local residents began to gather for the start of the lantern procession. Many came carrying handmade lanterns.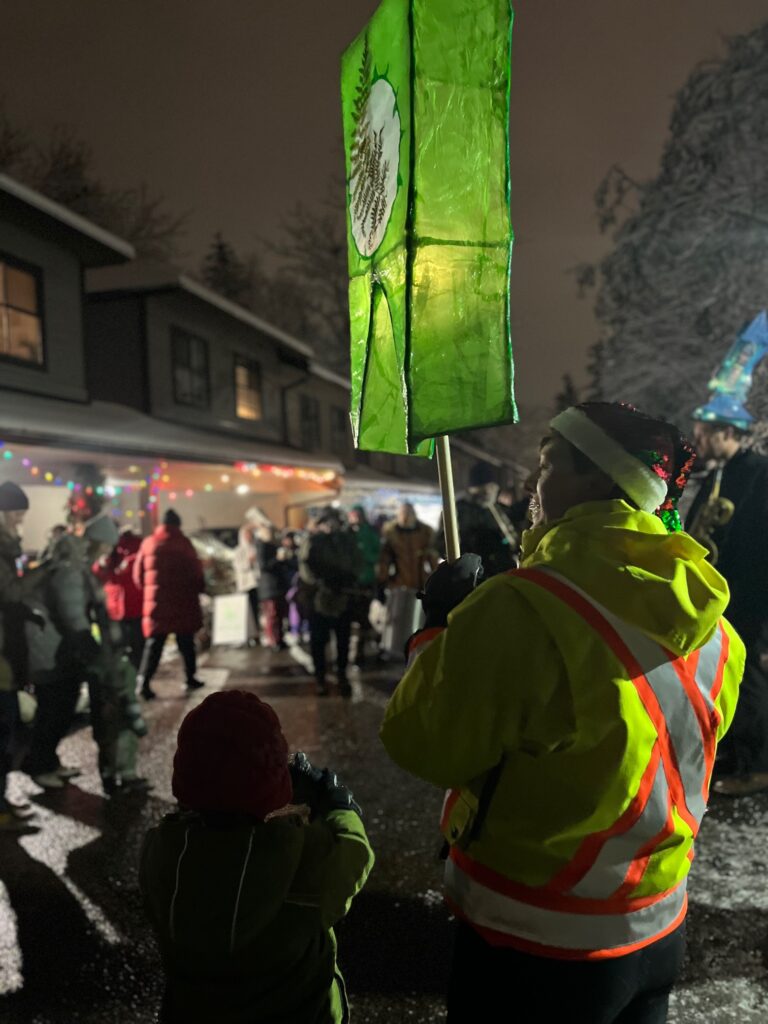 Two residents came with large gingerbread style lanterns suspended from sticks.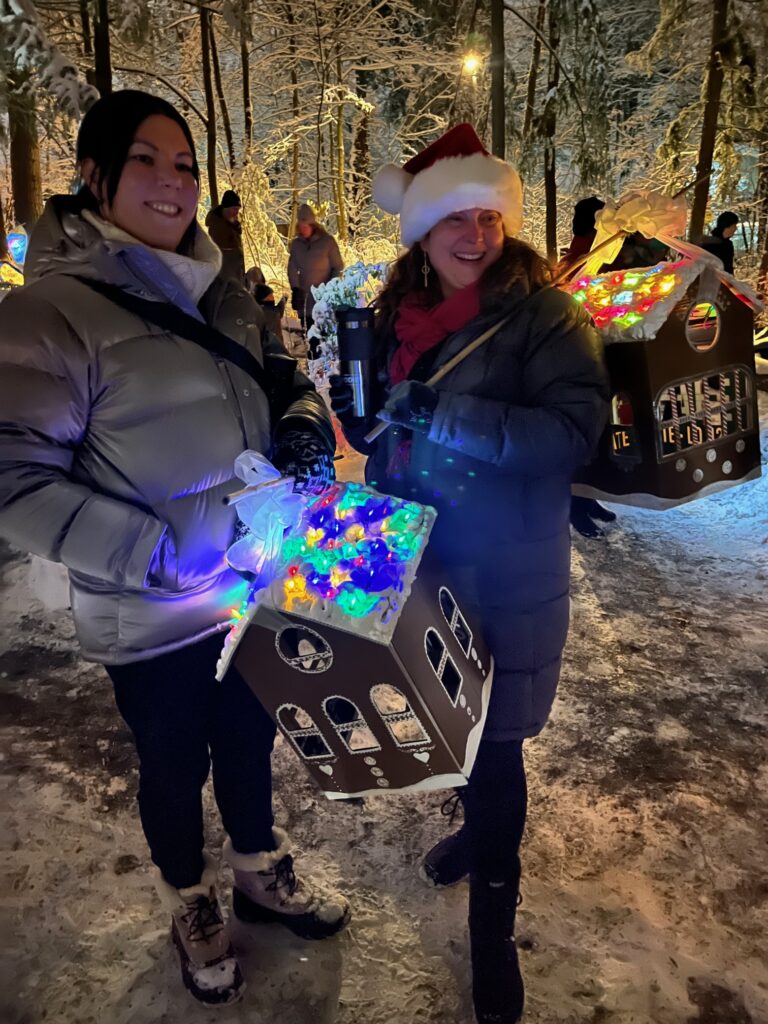 Others came carrying globe and nature lanterns, which they had built at Free the Fern lantern making workshops the weekend before.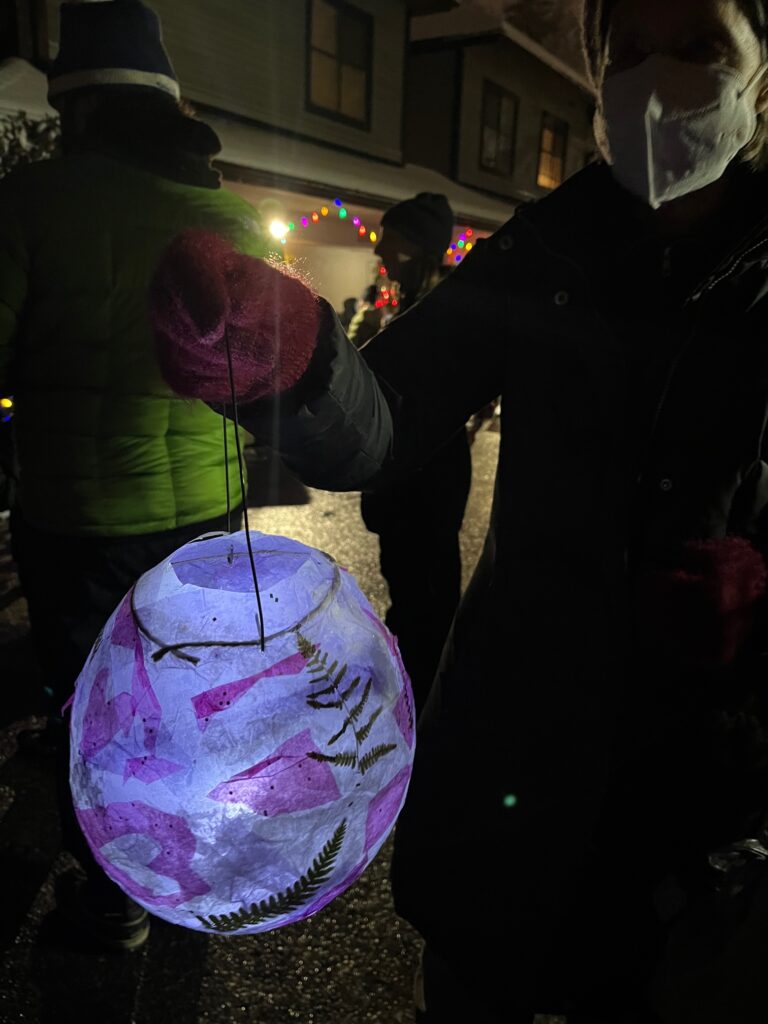 At 6:30pm, Grace Nombrado, holding a large, green, Free the Fern lantern, led the procession, with The Carnival Band.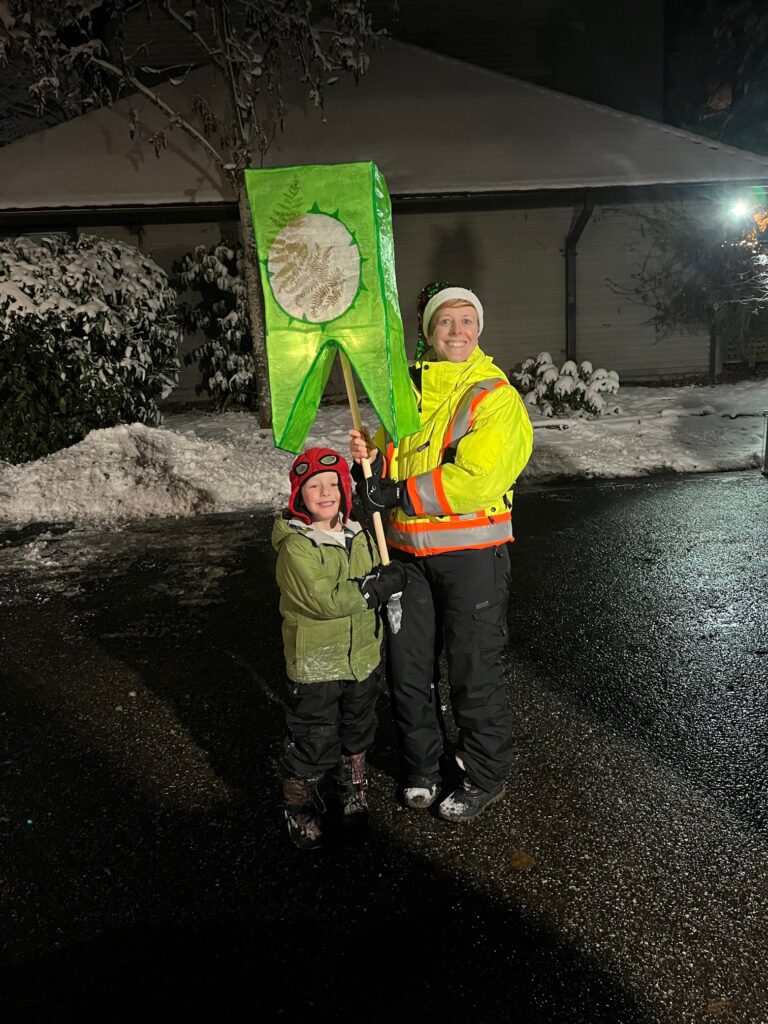 The procession wound through the Douglas FIr Teaching Garden, past garden plots twinkling with lantern light. The procession then looped down the main Red Alder trail, back to the basketball court, which was filled with tree-shaped lanterns made out of cedar shims and decorated by local artists.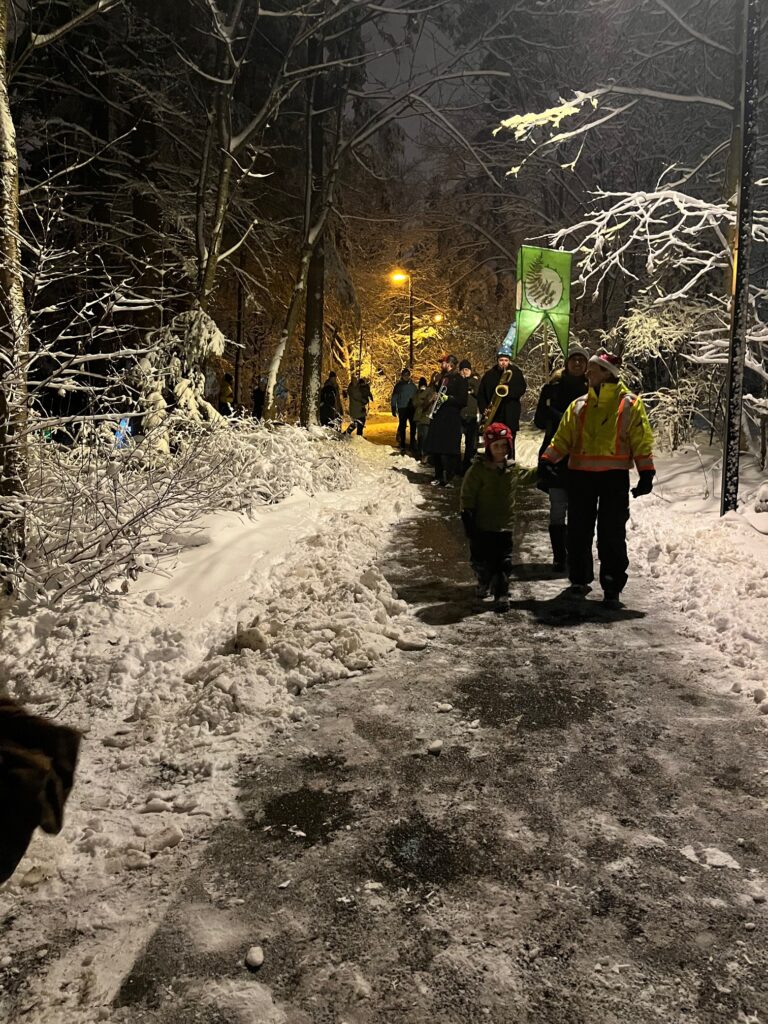 The Carnival Band entertained the crowd with a lively mix of gypsy and festive music. Trumpets, saxophone, and drums blended together. Following which, Grace Nombrado, lead a few rounds of Christmas carols. The musicians' fingers were starting to go numb, so Grace thanked them for their time.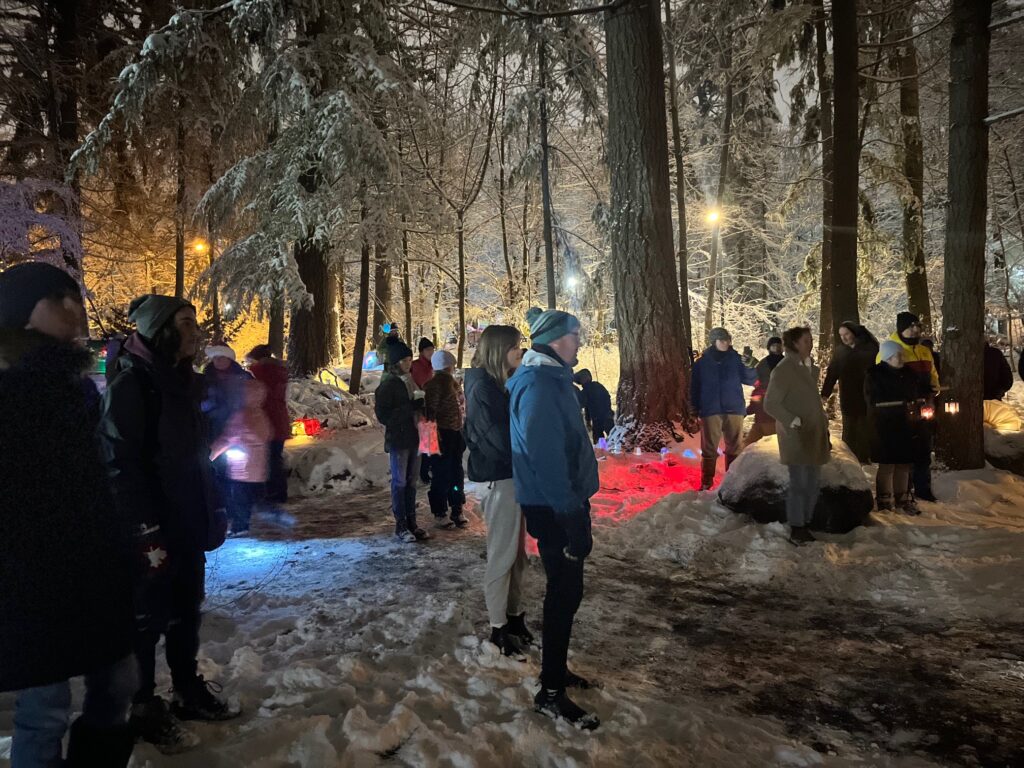 The crowd, of over 100 local citizens, lingered to mingle amongst the beautiful lantern-lit garden, chatting with friends, sipping hot chocolate and nibbling on cookies. Several people bought lanterns to support the fundraising efforts of Free the Fern.
By 7:30pm, the festival was complete, and a team of 10 amazing volunteers helped pack up all the handmade lanterns. The lanterns will be stored for next year, our third annual lantern event! We look forward to making it an even bigger and better event – connecting with more local artists and volunteers in the community.
Thank you so much to our 18 amazing volunteers who helped snow shovel, set-up lanterns, heat and serve hot chocolate, and clean-up the site: Anne, Annette, Antone, Bonnie, Carla, Connor, Damian, Erin, Florence, Grace, Joe, Joshua, Kiki, Liam, Matthew, Paola, Robin, and Westley. Thank you to the Carnival Band for your amazing performance! Thank you to the local artists who helped with lantern building.
Funding for this event was provided by a TD Park People Grant & Neighbourhood Small Grant.